Lot's to catch up on. As you may or may have not noticed, last week's That's A Wrap was bypassed due to the release of the 1st Edition of The Synergy of Business & Blogging. If you haven't grabbed your copy yet, please do so.  It's a compilation of 31 awesome articles from 31 popular bloggers.
Another week – another juicy list of sites and resources to check out.  It's been a great week in virtual reality and I've discovered a few golden nuggets to add to my growing repertoire of websites.  Hey, I seek inspiration where ever I can.
Cool Stuff To Check Out
Diana Adams from BitRebels.com lists 8 Ways To Write Killer Headlines.
The tips cover:
Keeping your title short
Don't ask yes-no questions
Using list titles
Using a current event in the title
Be Very Specific
Use Power Adjectives
If you are in need of some 'headline' reconstruction work, then this is a great article to give you some ideas.  My favorite tip is when she discusses 'power adjectives'; very interesting stuff!
Neil Pasricha's give a wonderful rendition of enjoying the simple things in life.  If you're looking for inspiration, check out this video.  He talks about things such embracing your "inner 3 year old"; seeing things as if it were the first time.
His blog 1000 Awesome Things savors life's simple pleasures, from free refills to clean sheets. In this talk from TEDxToronto, he reveals the 3 secrets (all starting with A) to leading a life that's truly awesome.
Here's another tasty video for you.  It was an interview done by David Garland from Rise To The Top with Michael Hyatt on the 'Future of Publishing & Publishers'.  I have to admit, I had not heard of Michael prior to this interview, but I'm glad I do now!  I won't get into the details … you'll have to watch for yourself.  However, I will leave you with the comment I posted on David's site:
I agree with what you and Michael say about people deciding to publish their books digitally (via ebooks) first and then looking into hard cover publication due to the low cost and low risk factor.

With the continue rise of people using devices such as the Kindle and IPad, it's a no-brainer I think. Add to that the fact that people can submit their ebooks to ebook directories for pennies compared to the cost of publishing a hard cover, well, that says it all.

Great interview gentlemen.  I have contemplated writing a book (in the far future ), and I feel now that it's more attainable.  All the best.

P.S. Love the 2-minute rule and the inbox zero!!  Will definitely use it…thanks!!
The video is 33 minutes long, but well worth it.  Learning about the 2-minute rule and the inbox zero concept was alone worth watching the video!
Social Media Examiner this past week posted the '7 Blogging Tips from Top Bloggers'. Here Amy Porterfield recommends 7 bloggers that you should follow if you are serious about taking your blog/online business to the next level.
Here are the top bloggers listed:
Convince and Convert by Jay Baer
Flight New Media by Rich Brooks
The Blog Squad by Denise Wakeman
SmartBrief by Rob Birgfeld
Social Media Examiner,Michael Stelzner
Permission Marketing Seth Godin's Blog
The Rise to the Top by David Garland (hmmm…made it for the second time on this post.  He must be doing something right. ;-))
All exceptional bloggers you can learn a thing or two from.
OK, so this is a bit out of the norm on NewBizBlogger, but I value the need to physically and emotionally regroup yourself.  Running an online business is tough work and it's important to find ways to relax and center yourself so you have the energy and motivation to continue to move forward.
Of course this can be done with eating right and exercise, however, other methods such as meditation can be very useful as well.  I came across this site this week that I thought would be helpful.  It's called 'Meditation Practice: Preparation for Beginners' by This Time This Space.
What I like about this post is that it's very simple to do! I'm not one to sit still and meditate for 20-30 minutes, the whole time trying to figure out if I'm doing it "correctly".  This article gives you simple, easy steps that in the long run can provide huge benefits.  Give it a shot!
Today's last recommend reading goes to Hector Cuevas. Hector  lists '12 [No BS] Reasons To Take Massive Action Today'! Really well thought out reasons and it was extremely enjoyable to read.  I think most people unfortunately fall victim to their 'reasons' which keeps them from moving forward in their business. Well Hector debunks these… go check it out.
Resources
This week's resource to check out is MyLiveSignature.com.  This site allows you to create a digital signature for free! Love me some free stuff. ;-)  You can actually write your own signature or use one of their preset templates.
Here's one I created:
Cool huh?
Last Thoughts
These last couple of weeks I've made attempts to take the focus off of NewBizBlogger and put it onto others.  With the release of the publication on January 7th and Twitter Challenge, I've made it about trying to see the 'big picture'; that no man is an island.
Do an experiment with me. 
This week, make it your business to make other people's business your business
. I know, sounds like a tongue-twister.
My point: Of course work your business, but focus your energy on others and what they are up to.  Notice the impact you can make on others and the world.
I will leave you with this one last video.  It's from The Oatmeal.  What I love about The Oatmeal is that he takes the every mundane things in life and injects fun at them.  Maybe we all need to do that more often.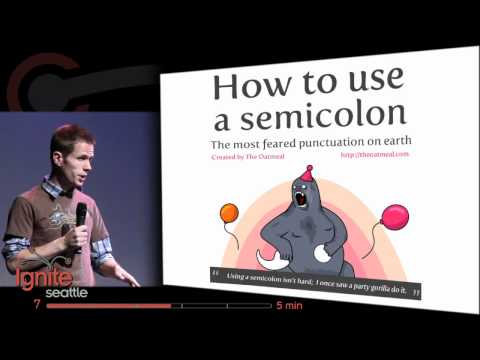 If you've enjoyed this weeks That's A Wrap, please feel free to share it!  Ciao for now.