With the holidays upon us, I had considered not writing the That's A Wrap posts until the new year.  Then I thought …why?  I LOVE what I do!  It's not a chore; it's a gift.  How many people can truly say that about what they do?
Sure I want (or need) a break from time to time.  But that's just because I love what I do so much that all the work gets a bit exhausting sometimes.  So we're still on.
Recently, I commented on Hector Cuevas' site where he created a podcast on 12 Cool Ways To Make Your Blog Sticky.  In the podcast, he had brought up the topic of branding and logos.  I commented on how although I was relatively happy with my logo, I knew eventually I would have to get if fixed; as the designer never pixelated the graphic.
Soon after, Hector very generously offered to create one for me!  Seriously! Blogging friends are so cool!
My first thought was to politely decline because I didn't want to add more work to his already busy day.  But after that moment of insanity, I quickly replied with a resounding YES…  but of course added that he should not go crazy with the project.
VERY soon later, Hector supplied me with a zipped file of several different logo's.  My biggest problem now was choosing which one to use!  As if I don't have enough decisions to make…lol.
So I've decided to put it to vote. This will not only help me out to make up my mind, but also showcase Hector's obvious talent (well, at least one of many).
If you can be so kind as to vote, I would truly appreciate your feedback!  I've narrowed it down to two choices:
#1
#2
I have to admit, I'm leaning heavily towards one of these, but chosen not to reveal it because I really wanted to get your opinion of it first.  Simply check off one of the options and then click on 'vote' to see the results.
Thank you for all those who have participated in the poll!
Cool Stuff To Check Out
I have a small confession to make.  Although I think Copyblogger.com is a FANTASTIC site, I don't visit it often.  Not sure why; I think I get information overload. I want to read it ALL and can't …  so opt for not reading much at all instead.
However that being said, I did read an article recently, which to put it simply, blew my mind.  Outside of the fact that it was so well written, it spoke of finding out what's at stake for your customers; tapping into their inner needs. In an article titled 'How to Make People Give a Dam About Your Business', Lisa Barone states:
As a content writer, being able to relate the struggles being face by a protagonist to the struggles of your customers? Well, it's pretty much the holy grail of marketing.
So well said and whether you sell physical products, digital products, services or just blogging to connect to others, this is one of those 'must read' articles.
This short, yet powerful post, really hit home for me as I suspect it will for you. Time management and setting priorities is something we all deal with (or rather should deal with) and Jay Baer in his post 'The Dirty Secrets of Time, Priorities, and Honesty' gives it to you in a no-nonsense, straight-up manner.  Like it or hate it, you can't help but agree with him on this.
I hate excuses. And the one I despise most of all is "I don't have time." Bullshit. You can find the time. It exists. You choose not to devote the time, and there's a big difference.
While I was there, I viewed his video on Social Media and moving your customers from interested prospects to taking action; from enthusiasts to advocates of your brand; and the power of word of mouth. Great video!
Jay Baer Social Media Speaker from Jay Baer on Vimeo.
Curse Alert!
This has to be one of the funniest articles I read in a while.  I actually first heard about it on Ingrid Abboud's SuperPost Sunday.  After viewing the title, I HAD to read it! The post is titled Stop Being A Fucking Pussy by Julien Smith.
Julien talks about the "edge" people are not willing to go to; this is the place that cool stuff happens.  It's a raw post but it is one of those articles that gets under your skin. Want to know why?  Because he says what we need to hear and sometimes that can be downright uncomfortable!
It's not often I get an overwhelming emotional response to something I read, but this next article did just that.  It was written by Nicholas Cardot titled A Heart-Wrenching Plea For Men To Escape. This article spoke of his story and the unrealistic expectations put on men in general to 'be' a certain way as a man.
I of course, am not a man and can't relate to this story.  However, as a Hispanic women, I can related to the "tough it out" mentality and the notion that showing emotion is a sign of weakness.
Heart-wrenching story indeed…
Social Media
With hundreds of social media platforms online today and more starting every day, it's impossible to submit your content for maximum exposure individually.   This is where content syndication tools such as OnlyWire.com come into play.
There's a bit of work on the onset setting up accounts for all the social networking sites, but once it's set up the process is much simpler.  It has been noted on occasion to fail with syndication with certain sites, however overall it's still a huge time saver.
You can sign up for a free account which allows you up to 300 submissions per month.  The only requirement is that you promote them on your website/blog and on Facebook. Otherwise, the paid version starts at $10/month.
Here's a video: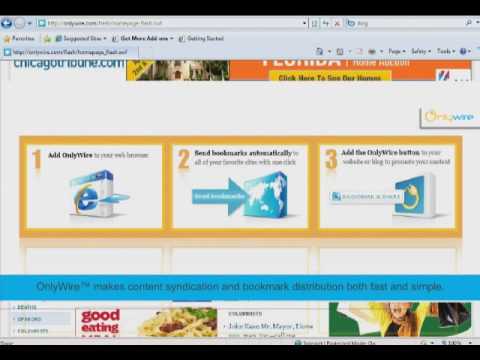 Last Thoughts
Having a successful online business is definitely important for the entrepreneur. However, finding the balance between your business and personal life is even more important. The holidays are upon us.
Enjoy your family – enjoy your friends – enjoy your life!
Happy Holidays